Living on your own in rented accommodation is expensive. With many financial responsibilities to take care of, as well as day-to-day chores, solo living can leave you feeling stressed and overwhelmed. Renting alone is more expensive than a house share, and oftentimes a smaller property doesn't offer as many attractive features (i.e., a garden, a second bathroom, parking etc.) Living with housemates comes with benefits.
Sure, living on your own may have some perks, but is it always worth it? Often when you're on your own, you can feel isolated, especially if you are unfamiliar with the area. 
A solution to all this is to live with housemates! Splitting rent and utility costs with others will immediately reduce financial stress, but it's not just about money. Living with others is a great way to tackle feelings of loneliness, and make some amazing friendships. If you're new to the city/country, living with others gives you an opportunity to become more familiar with your surroundings, to learn about the culture, which ultimately results in a happier stay!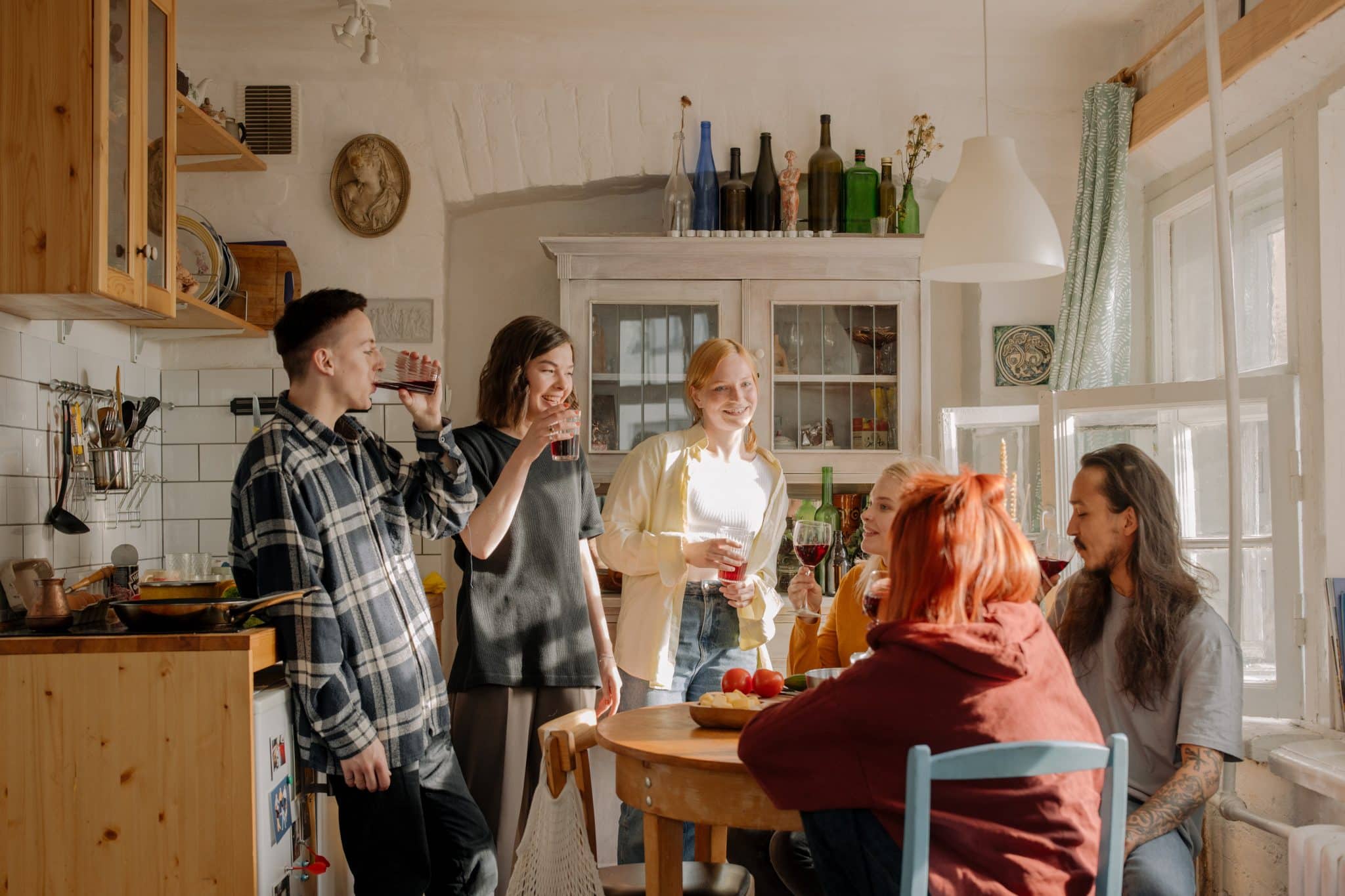 Living With Roommates – The Benefits
For some people, living with strangers may sound daunting, but it's also an opportunity to meet some amazing people. You'll have a chance to bond with each other in so many ways. Maybe having a chat over a glass of wine, going to the cinema, or going to fitness classes together. Who knows? They might turn out to be your new best friends!
Depending on your desired location, rent may be a bit on the pricey side if you decide to rent alone. In a lot of cases, a 3-4 bed house ends up being cheaper than a studio or 1-bed property, and rooms can be larger too! Shared accommodation is also a lot cheaper than renting alone because the bills are split between tenants. If you're budget-conscious, it's an ideal solution.
Having someone around is beneficial for a number of reasons. For example, if you're unwell they can help to look after you, or be a support to you when things go wrong. Having someone to come home to at the end of a long, stressful day can be an amazing blessing.
So, we've gone through a number of reasons to explain why living with others is great. Once you've got some housemates, the goal is simply to live happily together under one roof!
If you want to live harmoniously and get along well with your housemates here are some tips for you:
 1. Try and Avoid Lifestyle Clashes
The first step is to do some reflecting on what your own lifestyle preferences are, as this will guide you when finding a good match.
For example, if you're a vegetarian or vegan, it may be important to you to live with people who have similar interests. In the same way, if one person in the house enjoys late-night partying whereas the other prefers peace and quiet, there's bound to be a few problems!
At the same time, bear in mind the benefits of having housemates to share your lifestyle with! Together you might find common interests through various hobbies, gaming, sports and outdoor pursuits, or even just popping to the local for a drink.
2. Get to Know Each Other
Another tip for finding balance with your housemates is to do some ground work before you move in together. If possible, arrange for a phone/video call to introduce one another and establish common interests. Listen carefully to what the other has to say, as you will want to find out if you could both truly get along. 
If you are looking for housemates to move in with you on behalf of the landlord, don't be afraid to ask for references from potential tenants. Just because you're not the landlord doesn't mean you can't ask – a reference is designed to give you a clearer idea of what a potential housemate is like. They also help to ensure that the housemate is responsible, well-mannered and an overall good fit for the household!
3. Be Mindful of Space when living with housemates 
It's important that everyone has their own space so they feel comfortable in communal areas such as the hallway, living room and kitchen. Try to keep most of your belongings in your room or in dedicated zones (coats on coats hangers, not on the sofa!)  Decorating these spaces should be a group decision too!
4. Communicate Openly 
When living with housemates communication is essential for staying on top of things like bills and work schedules. If there's three or more housemates together, create a group chat to communicate when you're not together. Ran out of milk? Pop a message into the chat to see if someone can pick up a carton on their way home! 
Everyone comes from different backgrounds and has an interesting story to tell. Be considerate of your housemates, and treat them how you would like to be treated yourself. We all have a right to be happy in our own homes, so keep an open mind when you're all under one roof!
5. Establish Ground Rules and Share Responsibilities
Some people are happy to share their food, clothes and space with everyone! Others may not feel the same. Establishing ground rules with one another ensures that everyone feels comfortable and respected in their own home. Talk to one another about boundaries and be sure to keep to them. For example, if housemates take pictures inside the house, communicate if you are uncomfortable about your home/ identity being shared online without your permission.
Sharing responsibilities kind of goes without saying living with housemates. There's nothing worse than feeling like the housemate who does everything. Some households create cleaning/dishwasher/bin rotas so that everyone does their fair share of chores. It's important that everyone stays on the same page to avoid tension! The upside of this is that the workload is evenly shared amongst household members, saving you time and energy. 
HomeHak 
When users create a Tenant CV with HomeHak, they can add other users as co-applicants to their profile. Landlords can then view and consider the entire party when looking for suitable tenants. In the 'My Co-Applicants' section, simply search for your friends using their HomeHak code (i.e., XXXXXXXX) and invite them to be your co-applicant.
It's best to use your Tenant CV as a document that represents YOU, rather than a whole group of people. This is because your profile is unique and showcases your documents, your preferences etc, which you can use time and time again throughout your rental journey.
Check out our article Rent a Home in Cork: HomeHaks Guide To 10 Things You Should Know