Scams related to renting – HomeHaks Tips on how to be careful.
September has approached and students are heading back to college. The rental market has never been busier. There is even more competition for accommodation at this time of the year. With the surge in demand for accommodation, hopeful tenants are being advised to be cautious of a variety of rental scams as the market becomes even busier.  Homehak has put together some useful information about scams related to renting.
Rise in accommodation fraud and scams.
With the increase in demand for accommodation, so too has there been a rise in accommodation fraud and scams. These tactical scams are catching Irish tenants out. The end of summer (August to October) is a particular target time for criminals as students and families have a clear urgency for new homes. Experienced scammers will be prepared to catch people off guard during this time.
How much money has been stolen in scams?
An average amount of €1,300 is stolen in rental scams. A sum total of €291,452 has been stolen from tenants so far this year. Tenants new to the rental market should familiarise themselves with the law around the renting sector. A good starting point is on the Residential Tenancies Board website. Threshold is another great website. Providing free, confidential advice to anyone in Ireland experiencing tenancy issues.
The current competition for rental properties means that landlords can have their pick of tenants. Scammers are taking advantage of this competitive rental market. They hurry victims into making quick decisions.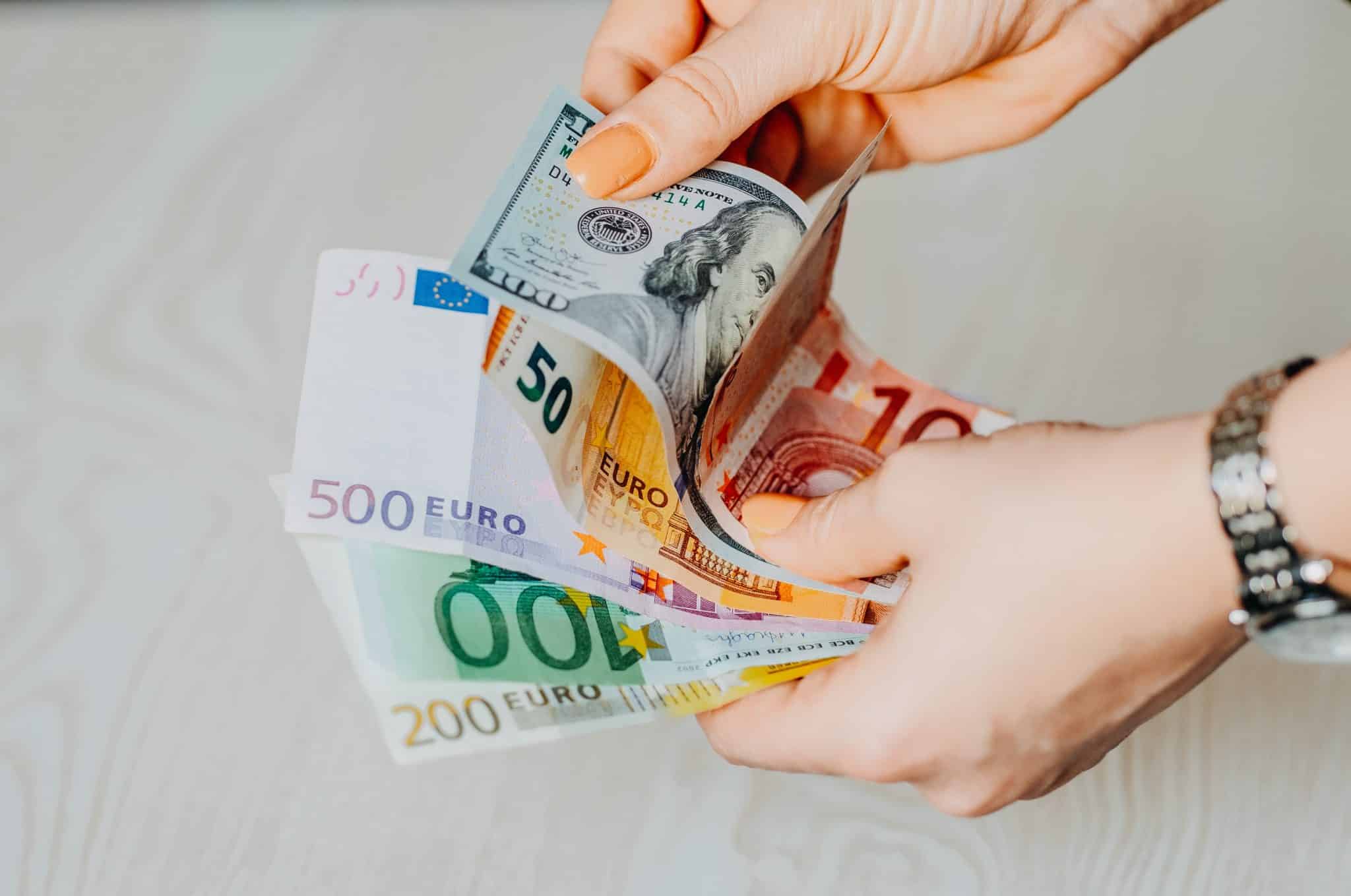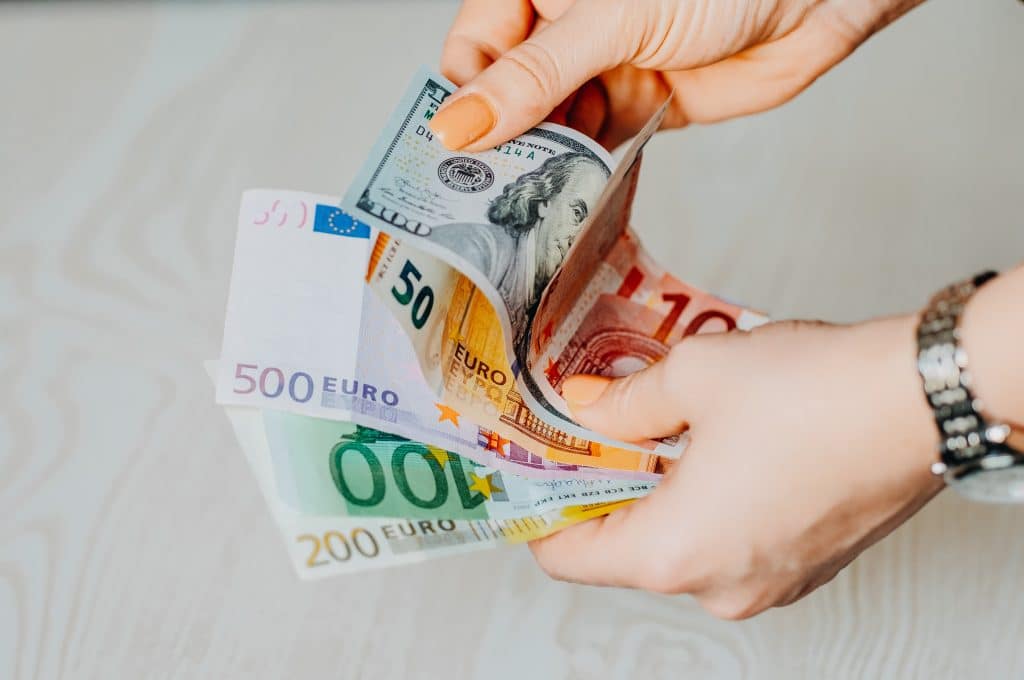 Scams related to renting
The scams fall into three broad categories;
The scammer claims to be out of the country. They can't show you the property and request a deposit.
The scammer is living at the property and shows it to a number of people. They will secure deposits from several before disappearing with the money.
The transaction appears normal. This is until the renter finds that the keys don't work and the landlord has disappeared.
Be Informed
Spend time doing research . What is the current average rent price of accommodation in the area? You can use online maps to verify that the property you are interested in actually exists. You can also check it is at the stated address.
Have a look on short term rental websites to ensure any potential fraudsters are not using the property for "viewings". This might result in the fraudster potentially might taking your deposit.
Red flags to look out for when booking accommodation
If the rent seems too good to be true; then it probably is a scam.
The listing contains grammar or spelling mistakes and is on social media
All communication is only via WhatsApp or social media.
The landlord is away and is unable to meet up to show you the property in person.
Property is offered with no questions asked. Payment is demanded immediately before signing the lease.
Requested to pay in cash/PayPal/wire transfer/iTunes gift cards or cryptocurrency.
The account to pay into is in a different country.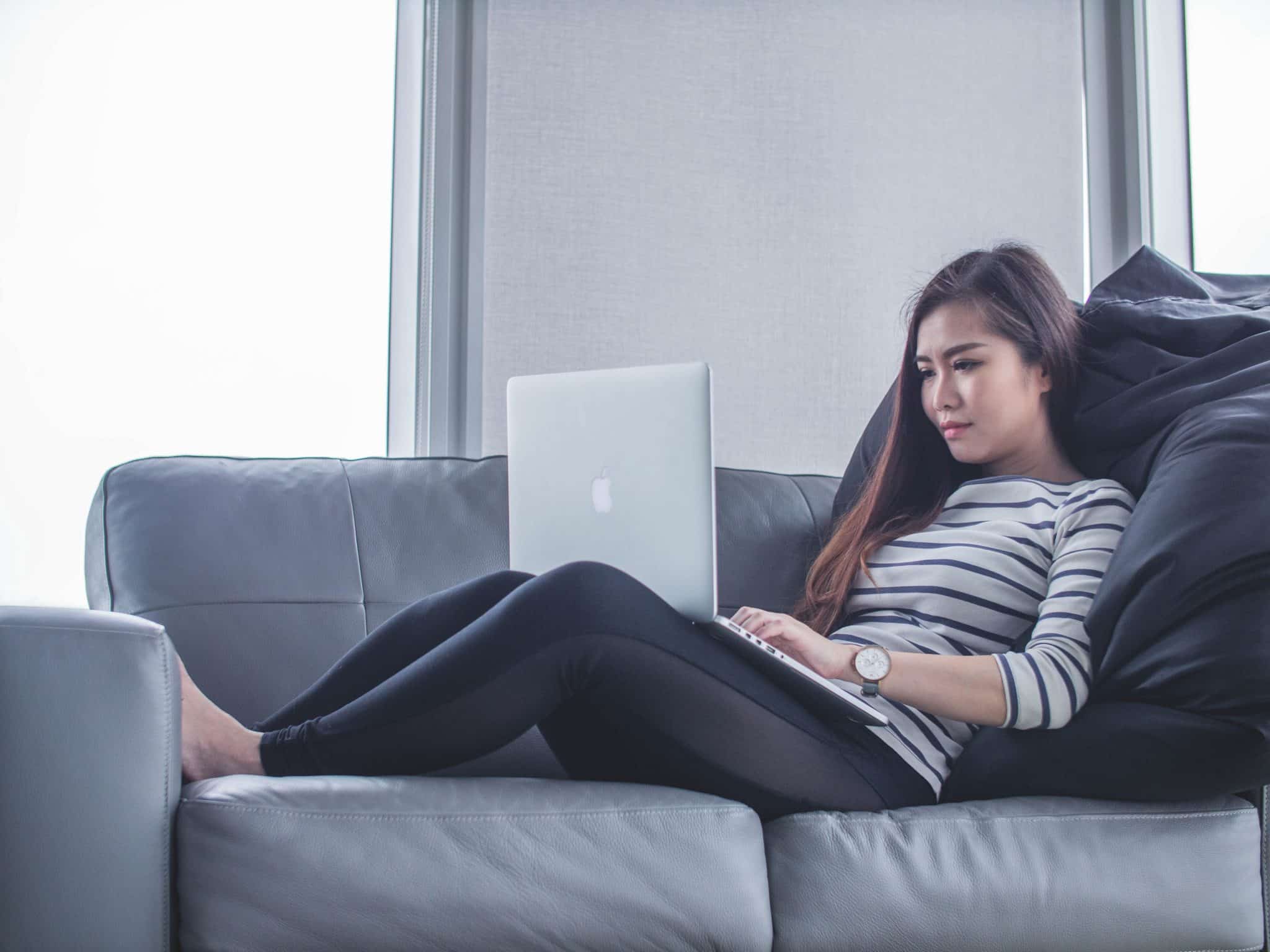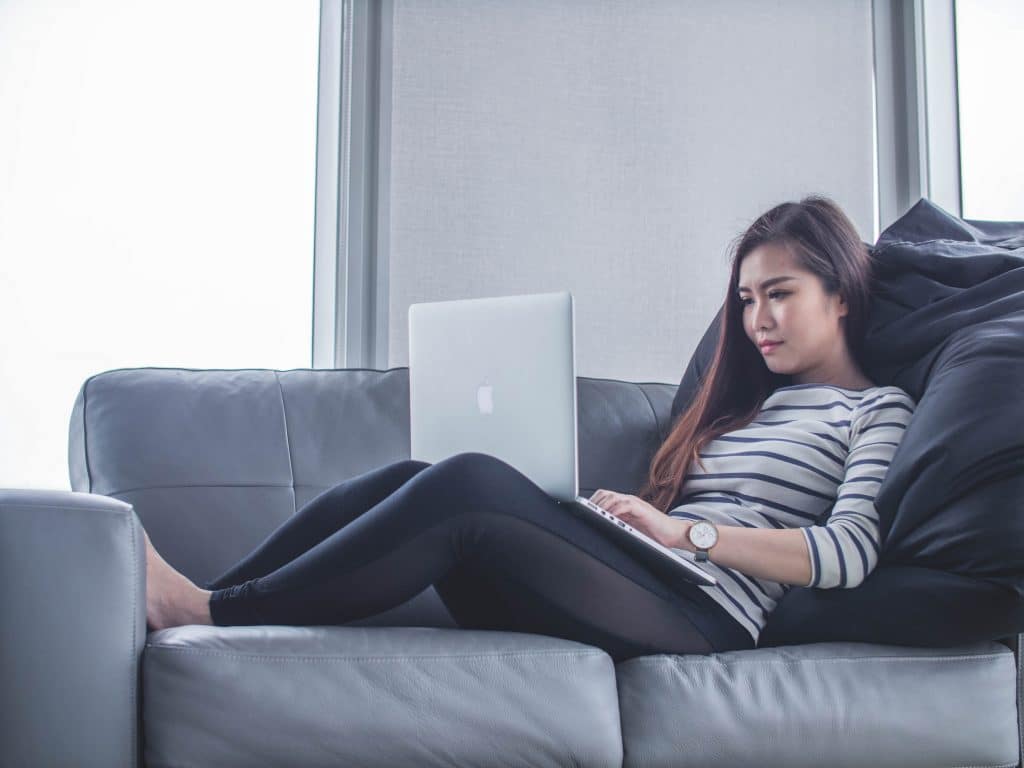 Follow these three instructions to avoid scams related to renting.
Informed
First, establish that the property exists and is available for rent.
Check the identity of the landlord / agent. Request a copy of a driver's licence or Photo identification of landlord or letting agent.
It is always better to be safe. Don't rush into any arrangement that looks too good to be true.
Check the URL to ensure it's a real website. Take note of the privacy and refund policy sections.
Do a landlord check through the Residential Tenancies Board

website.

If booking a holiday rental, use a booking agent or hotel website directly. If it is a third-party website, ensure it is secure.
Secure
Pay the deposit to the landlord. Do not pay the persons leaving the property or anyone else.
Ideally only do business with legitimate well-known established rental agencies. Alternatively deal with people who are bona fida and trusted.
Bring a friend or family member with you to view the property.
Use cheques or bank drafts to pay the deposit. Keep copies of all receipts of payments.
You can check any IBAN bank details supplied for payment using free online checking tools. These will show where the bank account is based.
Do not hand over any cash to anyone. This is because you will not have a record or be able to trace your deposit.
Only use trusted money transfer systems such as credit cards.
Keep track of all correspondence between you and the advertiser e.g. bank details, advertisement etc.
Alert 
Meet prospective landlord in the accommodation.
Ensure the keys of the property fit. Open the door lock and sign a rental contract prior to payment of deposit.
Be careful of social media advertisements. Secondly, where a person letting the location will only communicate via messenger or WhatsApp.
Push for direct answers and if responses are vague, disengage immediately.
Watch out for "unsolicited contacts" or where the contact appears to be based in other jurisdictions. Especially important if there is a sense of urgency like 'a one-time offer.
Ask yourself why a person living in Cork and letting out a property there would have a bank account based in the UK or Holland or anywhere abroad.
Do you think you are a victim of accommodation fraud?
Gardaí advised members of the public who believe they are a victim of accommodation fraud to contact any Garda station and report the crime.
Use any phone numbers or email addresses to monitor for future activities of criminals. This will hopefully prevent other innocent people falling victim to fraud, said Insp Meighan. Anyone can fall victim to a scam. Ask anyone who finds themselves in this situation to report it to Threshold, as well as to An Garda Síochána.
"While Threshold cannot help to recover the lost money, alerting us will help to prevent other people from falling victim," said Inspector Steven Meighan of the GNECB. Source: 'The family turned up to move in but the real owners knew nothing about it' – Garda warning as €500,000 lost to rent scams
Check out the resources provided by An Garda to avoid accommodation fraud.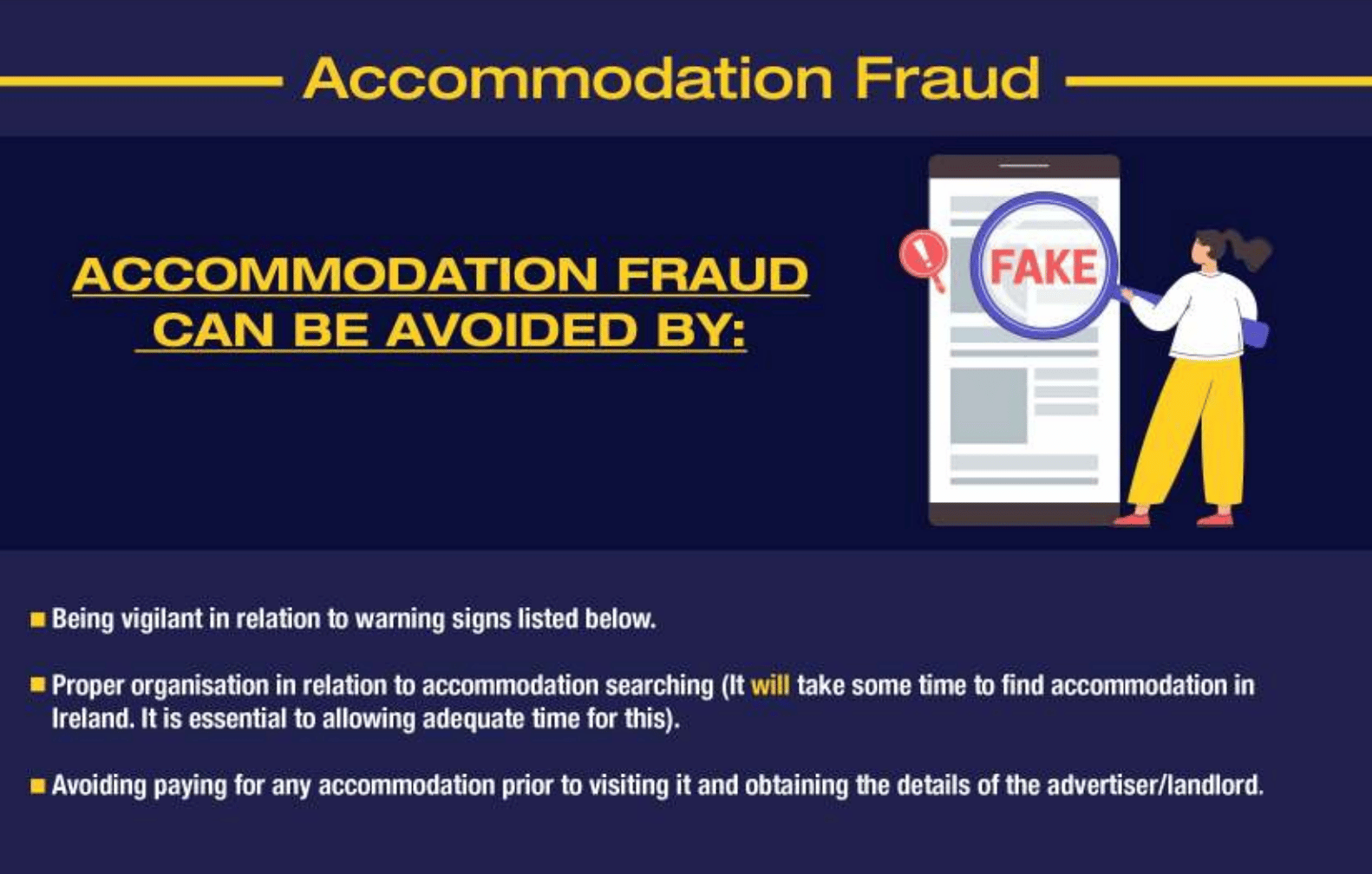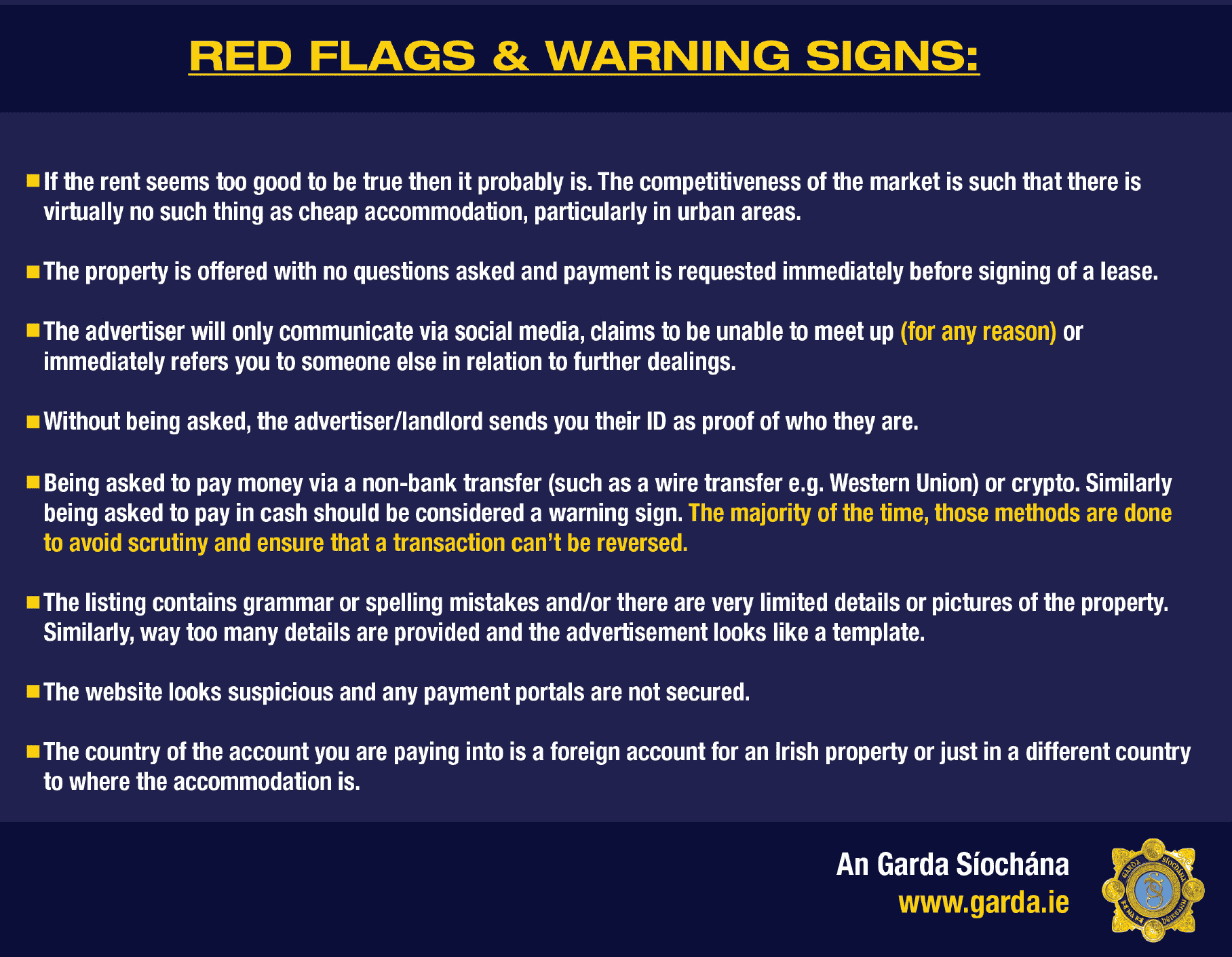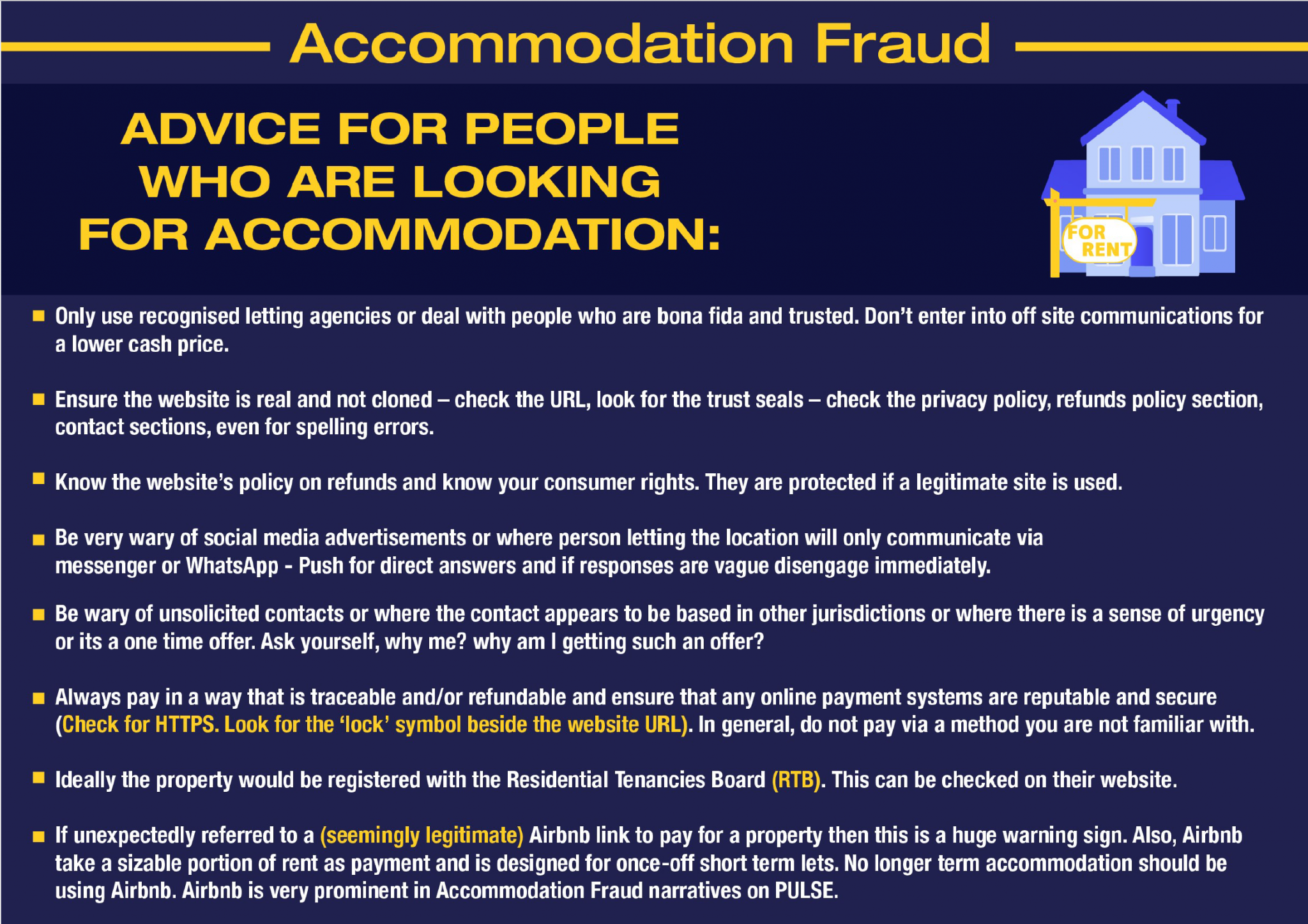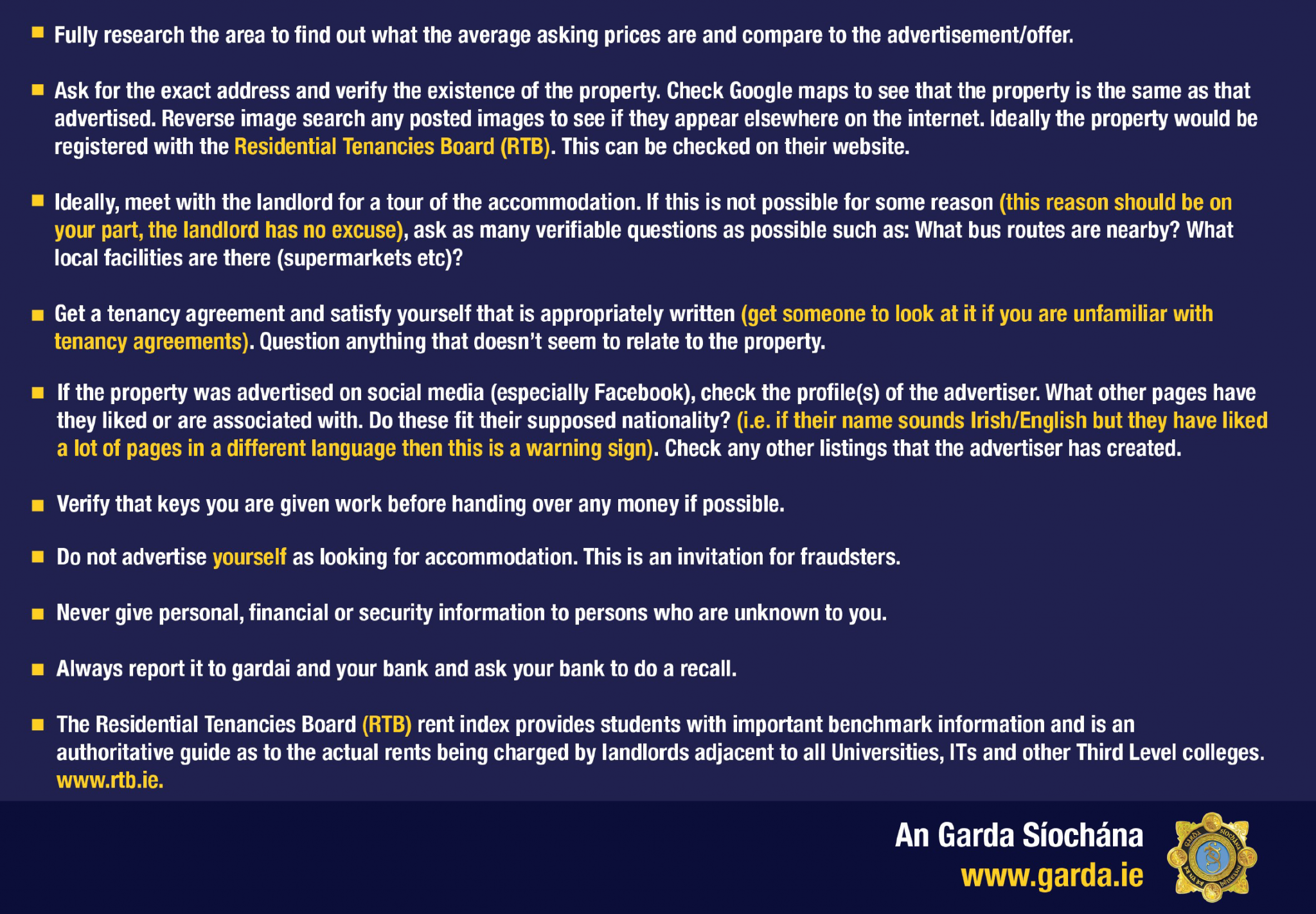 Useful Websites
Competition and Consumer Protection Commission
Interesting Articles
Renters warned of scams amid increase in accommodation fraud
'The family turned up to move in but the real owners knew nothing about it' – Garda warning as €500,000 lost to rent scams – Independent
Renters warned of scams amid increase in accommodation fraud – Irish Times
'Exercise particular caution': Here's how to make sure you don't fall victim to a fake rental scam – The Journal
The clever renting scam that's catching Irish students out – what you need to watch out for – Irish Mirror
Gardai issue tips to students on how to avoid getting scammed while renting property – Irish Mirror
Checklist for Students Renting for the First Time' – RTB
Here's how to make sure you don't fall victim to a fake rental scam – The Journal