In this newsletter*…
Newsflash: accommodation is needed for medical professionals in Cork
Meet three doctors, a nurse and a consultant who seek accommodation in Cork, today.
You can help. It is easier than ever to prioritise medical professionals for accommodation
See how property professionals can help in a practical way
Who else is searching for rental homes in Cork?
Sharing is caring. If you do nothing else, please share this newsletter with property professionals.
*The data in this newsletter was correct on 6th December, 2022
1. Doctors and nurses in Cork urgently need accommodation.
Change is urgently needed. A study from Cork University Hospital and Cork University Business School claims that the country's health system would "collapse" without overseas doctors.
According to the Irish Nurses and Midwives' Organisation (INMO), these essential workers are often being asked to share bedrooms or, in at least one instance, beds with strangers.
You have probably seen the recruiter ads on LinkedIn inviting doctors and nurses to apply for medical roles in Cork.
International health professionals play a vital role in the provision of healthcare to the citizens of Cork. Many travel thousands of kilometres to work on the frontline in Cork.
It's hard to source and recruit medical staff. Unfortunately, though, many cannot find accommodation after they relocate to Cork and they are leaving our city as a result.
This home seeker successfully found a home with HomeHak: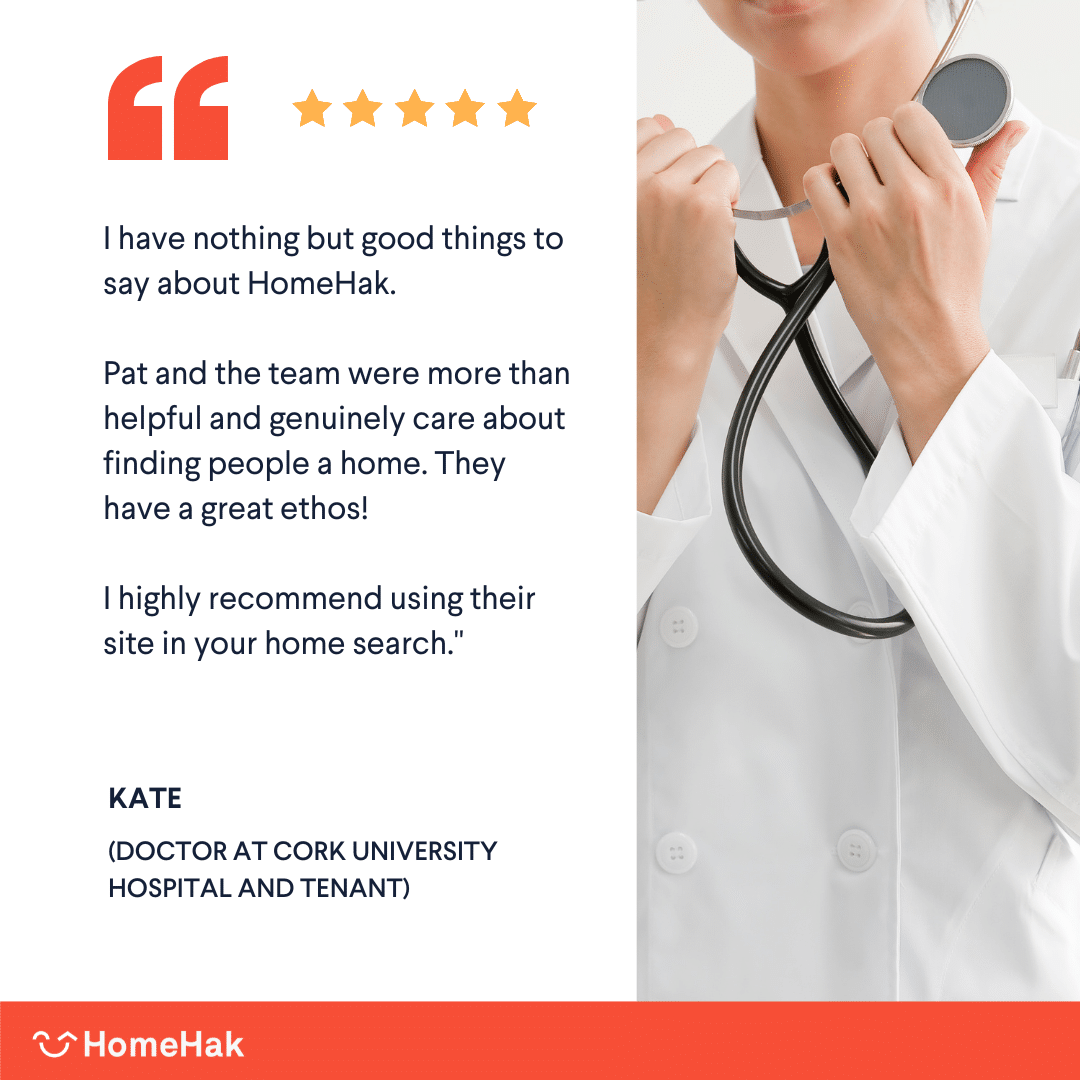 2. Meet doctors and nurses who need a home in Cork, as of December 6th, that you can help:
If a Preview Tenant CV doesn't load, it maybe the home seeker has been offered a home. Also, to review a members Full Tenant CV you must be a registered member of HomeHak – as it may contain sensitive information the owner wants to protect.
Sarra
Sarra is a frontline doctor in the Cardiology clinic at CUH. She has worked in three hospitals in Munster over the past few years. Sarra has been hosted temporarily by her friend for the past six weeks. She is offering between €1,000 and €1,500 for a one-bedroom apartment. This is the Preview CV for Sarra.
Katherine
Kate is a Doctor joining CUH in January 2023. She is an experienced renter and needs accommodation for herself and her partner Kieran, a school teacher in Cork. Kate is organised and presents her rental history, employment details and ID verified in her Tenant CV. Her rent target is €1,200 – €1,300 p.m. See Katherine's Preview HomeHak Tenant CV here.
Hilal
Hilal is a Physician newly arrived in Cork, ready to start work on 1st January 2023. He needs a home for himself, his partner and two kids. He has sponsorship from his home government and is willing to spend up to €2,400 per month renting accommodation in Cork. Check out Hilal's Preview Tenant CV.
Nithin and Sherin
Nithin is working as a nurse at CUH since May 2021. He is looking for a home with his wife Sherin and their two children for up to €2,000 per month. Nithin and Sherin have both created a Tenant CVs, including landlord references and ID verification. View their details here.
Fulvio
Fulvio is a Consultant Psychiatrist who will begin work in Cork in March 2023. Clearly an organised person, he is searching in plenty time for a home with at least two bedrooms for his partner and himself. Fulvio's Tenant CV contains rental history, employment details, and his ID is verified by stripe. His budget stretches to €1,900 p.m. Review Fulvio's Preview Tenant CV.
3. Help our frontline medical professionals in Cork
It is now much simpler for you to help our hospitals accommodate their frontline medical staff.
Uniquely, on HomeHak, you can see the Tenant CVs of the staff in our hospitals currently searching for homes to rent in Cork:
In conjunction with Cork University Hospital, we have created a page that lists CUH medical professionals who are searching today for homes to rent in Cork.
On tenants.homehak.com, in the search box, enter words like/including "Nurse OR Doctor OR CUH OR Mercy OR Bon Secours OR Mater OR Hospital" (If you enter more than one search term use capital letters for the word "OR").
If you enter all these words, today (6th December) you will see 49 medical professionals who need homes, even if you are not logged into HomeHak. Click here to review their Preview Tenant CVs.
If you are a registered member of HomeHak, you can review 106 Preview Tenant CVs for medical professionals today with this search.
Until now, if you wanted to help and prioritise medical professionals, you would have to filter through hundreds of applications to find the frontline medical staff.
Even then, there was no guarantee your property would suit the applicant. Maybe the commute wouldn't work, the rent was too high, or the amenities didn't match their needs.
From now on, with HomeHak it couldn't be simpler to prioritise key staff for rental homes.
4. Property professionals, here is how you can help:
If you'd like to prioritise doctors, nurses and medical practitioners for your properties, follow these steps: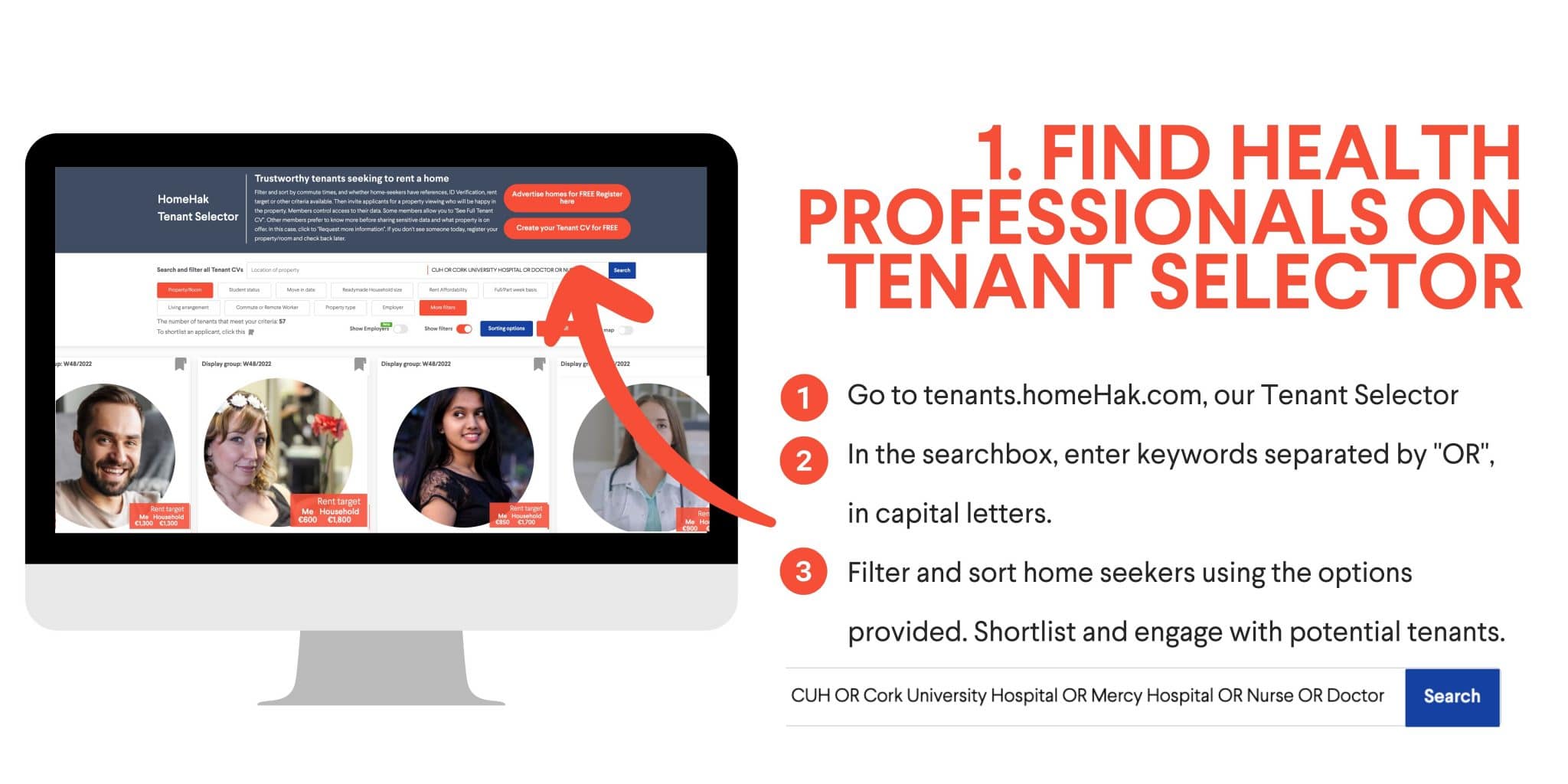 Cork University Hospital is the first institution to create a page on HomeHak to help their employees find accommodation in Cork.
If you have a property available close to or on the bus route to Cork University Hospital, you can narrow your search even more and consider CUH staff: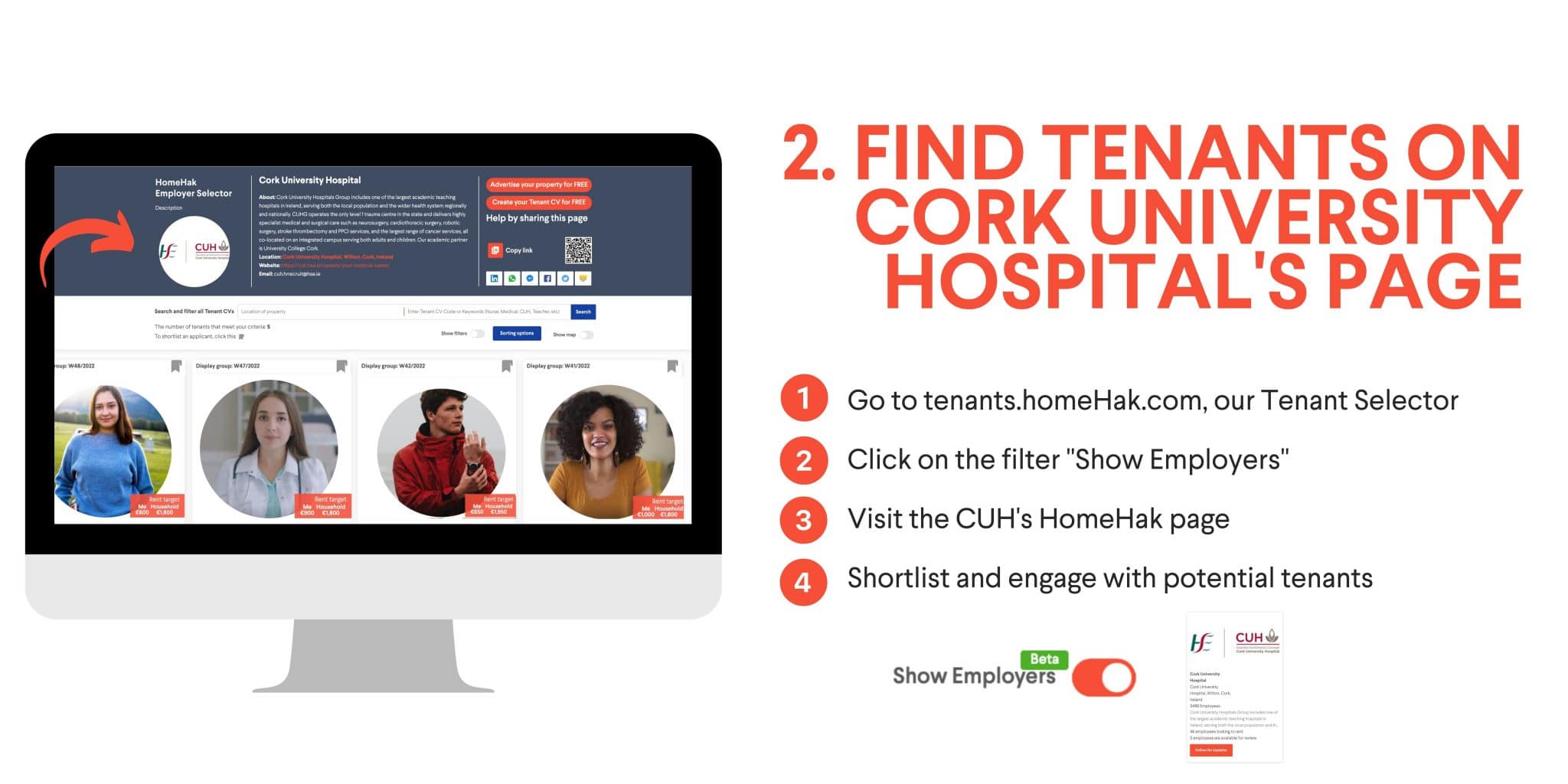 5. Who else is currently searching on HomeHak.com?
Besides medical professionals, here is a list of home seekers that have created a good HomeHak Tenant CV during the last 12 weeks.
Are you looking for an organised tenant with credentials pre-prepared?
Results if you are registered* on HomeHak
Results if you must register* on HomeHak
*Log in to your HomeHak account to have access to a bigger pool of trustworthy tenants with credentials pre-prepared.
6. Sharing is caring
If you do nothing else – please share this newsletter with your colleagues or anyone who might be able to offer accommodation to medical professionals in Cork.
We want to hear from you!
Finally, if you want to help, but you're not sure how to get started, please get in touch. Reply to this email and we'll contact you.
Also, let us know what you think about HomeHak's mission to support healthcare workers in finding a home in Cork?
If you would like to be involved in this campaign or HomeHak's people approach to home renting, let us know. We would love to hear your feedback and thoughts!